Agile, Scrum and DevOps Training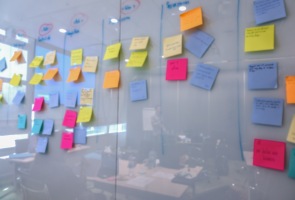 Discover our Agile, Scrum & DevOps training and certifications programmes to make a successful transition to agility & the new digital wave.
Explore the concepts and principles of these approaches and apply them to your organisation.
Accredited by APMG, EXIN, DASA & PeopleCert.
Agile, Scrum and DevOps methodologies
The AgilePM® - Agile Project Management method allows you to adapt your projects and deliver them quickly to meet your customers' needs. Improve your management skills by applying agile principles, which will enable you to deliver your projects quickly, economically and at low risk. This method combines perfectly with PRINCE2. B2B Learning is an accredited training organization by APMG for AgilePM.
Tailor-made Agile workshops, including the concept of serious gaming with our game "the Resort", will allow you to discover what Agile is and what it can do for you.
To implement Scrum and get the most out of this Agile approach, you need to understand how it works: how and why does Scrum work? Our Scrum Master and Scrum Product Owner courses explore the mechanics of Scrum and why it works, as well as advanced topics, such as risk management and optimisation of the total cost of ownership of a system, that leverage the underlying principles of Scrum. We are accredited by EXIN and also offer Scrum.org certifications.
DevOps is the cultural and professional movement that focuses on communication, collaboration, integration and automation. DevOps has a simple but crucial goal: to make IT easier, faster and cheaper, in order to deliver more value to the business, the consumer and the user faster. The aim is to improve the flow of work between software developers and operational IT professionals. B2B Learning offers the DevOps training and certifications offered by PeopleCert (Fundamentals and Leadership) and by DASA DevOps Agile Skills Association (Fundamentals and Coach). We also offer the Phoenix Project Simulation, one of the most popular gamification worldwide.