Incompany Training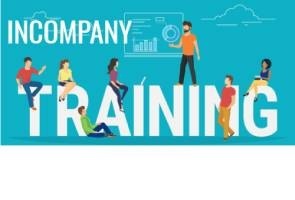 Do you need training for your teams?
From 5 participants, an inhouse training is the ideal solution for your teams! Flexible, tailored to your needs & cost-effective. At your location or live virtual.
Experience a hassle-free and successful training experience for your organization with the quality and availability commitment of B2B Learning.
B2B Learning provides flexible and tailored training programs to meet your specific needs and requirements. Our in-company training solutions will allow you to choose the contents of your course, the training location, the delivery method, the language and much more.
Tailor-made training program
Our inhouse training solution offers you the unique opportunity to define a course outline that will answer your specific needs and expectations. Our aim is to train motivated and convinced learners and to help you to improve your organization's Information Technology & Project Management performance.
Our training consultants, together with our expert trainers, will help you and your management to set your goals and objectives and define the ideal training programme, adapted to your teams and organization. We can tailor an existing training or design a fully customized training program.
And don't forget, it is also important to reinforce the new skills participants just learned. It is important that participants put the new skills into practice. Reinforcing and supporting new kinds of behavior after they are learned is crucial. B2B Learning can help you achieve this goal with coaching on-the-job whenever needed.
When and where you want
We aim to offer the most flexible training solution for a unique training experience.
Our classes can be organized during the day, in the evening or on weekends, either on consecutive days or spread over a few weeks.
All courses can be arranged anywhere in Belgium and in Europe, either in your offices our in our training center in the heart of Brussels. We can also make arrangements with external locations.
We will take care of all practical and logistical aspects for a hassle-free training solution.
Innovative delivery options for optimal results
Choose a classroom training for a unique interactive and active training experience. Not only will your participants learn the chosen method or framework; this experience will also act as a teambuilding moment.
For longer training programmes or for those who have less available time, we can also offer a dynamic solution with our blended-learning formula, an ideal combination of self-paced learning for the theory with a practical-oriented classroom training.
In this COVID times and for those who have teams based in different locations or countries and who want to save travel time, we can offer a live virtual training session in Teams, Zoom or Go To Training. With the latest tools and technologies, this distance learning option is now efficient, interactive and fun learning moment!
Learn in the language of your choice
It is important to attend a training in a language that we master. Our courses are available in English, Dutch and French (German on request). Most of our trainers are bilingual or trilingual and will be able to answer the participants' questions in their own language.
Course materials for our foundation trainings are available in English, French and Dutch. For advanced courses, the training documentation is in English. The availability of the exam languages depends on the Certification Bodies.
Make the most of your training investment
For each in-company training request and after a personal contact to discuss your needs and expectations, you will receive a complete and personalized offer. No surprises, everything is included and well detailed. From 5 to 6 participants, an incompany training is financially more advantageous and flexible.
However, if you prefer to register your teams on our open calendar courses, for availability reasons for example, we we can present you our key account offers.
Receive your personal offer or call us on +32 2 335 12 36 to discuss your training needs!