PRINCE2® Training & Certification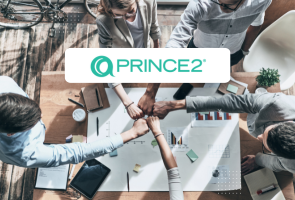 Discover the PRINCE2 project management method
Accredited Training Organisation (ATO) by Peoplecert
Complete offer from Foundation to Practitioner
Face-to-face, virtual live or online learning courses
Sessions in English, French and Dutch
3-day training, exam voucher and Take2 option included

2-day training, exam voucher and Take2 option included

5-day training, exam vouchers and Take2 option included

20 hours online PRINCE2 Foundation level learning / 6-month access / exam voucher included

10 hours online PRINCE2 Practitioner course / 6-month access / exam voucher included

30 hours online PRINCE2 Foundation & Practitioner course / 9-month access / exam vouchers included

Afraid to fail the examination? Discover 5 tips to pass your exam!
PRINCE2 is the world's leading and most practiced method for project management and is globally recognized for delivering successful projects.
The PRINCE2 method addresses project management with 7 themes, principles and processes and equips practitioners with the knowledge to manage projects in a range of environments. It provides explicit recognition of project responsibilities so that participants understand each other's roles and needs, whilst providing a defined structure for accountability, delegation, authority and communication.
The Best Practice represented by the PRINCE2 method is supported by a scheme that offers three levels of certification: Foundation, Practitioner, and Professional. With the PRINCE2® 6th Ed. Updated version, there is a new membership scheme that offers project management professionals a wide range of content designed to help them achieve exam success, excel in their professional roles, and advance their careers.
B2B Learning is an Accredited Training Organization and offers approved PRINCE2® Foundation and Practitioner training, whether you are an individual seeking to expand your skills set or an organization that has adopted (or plans to adopt) PRINCE2®. We provide PRINCE2 training and exams in English, French and Dutch.
Our PRINCE2 courses are offered as open calendar training sessions (in-class or live virtual) in Belgium and in Luxembourg. Incompany training courses can be organized everywhere in Europe or around the world. We also offer PRINCE2 online learning modules.
Our PRINCE2 training and certification offer includes:
PRINCE2 Foundation training & exam: a 3-day programme to understand the PRINCE2 way of working and prepare for the PRINCE2 Foundation exam, taken on the third afternoon
PRINCE2 Practitioner training & certification: an intensive and hands-on 2-day programme to learn to put PRINCE2 into practice with case-studies and exercices. Exam is taken one week after the training
PRINCE2 Combined in 5 days: book for the Foundation & Practitioner levels all at once and benefit from a 10% reduction on the course fees
PRINCE2 Online Learning: for those who cannot participate to a classroom session, a self-paced online study, including an exam voucher
Why was PRINCE2 updated in 2017?
To reflect changes in business practices and following direct community feedback, AXELOS has revised the PRINCE2 guidance and exams and published an updated version in May 2017.
The existing 7 PRINCE2 principles, themes and processes remain consistent but certain elements have been re-emphasized throughout the guidance and exams. The update places a greater attention on how to tailor PRINCE2 to the needs of organizations and project environments, enabling anyone managing a project to get the best from the PRINCE2 methodology.
What are the major changes in PRINCE2 6th Edition?
The main changes to the guidance are focused on:
tailoring PRINCE2 to the needs of organizations and project environments
establishing a clear link between the themes and principles
the restructuring of the 'Themes' guidance to accommodate specific examples of tailoring
the practical application of the method, with numerous examples, hints and tips
maintaining the Practitioner certification through PRINCE2 Membership
What happens if I hold a PRINCE2 certificate before 6th Edition?
Your current PRINCE2 Practitioner certificate (you passed the exam before the 2017 update), remains valid until the end of its five-year period. It is also applicable for PRINCE2 digital badge available via the PRINCE2 Membership programme.
How do I re-Register my PRINCE2 Practitioner Certificate after the validation period?
The purpose of re-registration is to ensure that PRINCE2 Practitioners keep their knowledge current. As part of the update these requirements have changed to reflect the growing importance of professional development. Learners certified in PRINCE2 will be encouraged remain current through a new programme linked to PRINCE2 Membership.
This will enable Practitioners to record CPD (Continuing Professional Development) activities on an annual basis, which they can collect throughout the year. CPD allows practitioners to demonstrate they are maintaining their professional expertise and avoids the need for a mandatory reregistration exam.