Agile Scrum Workshops, Training and Exams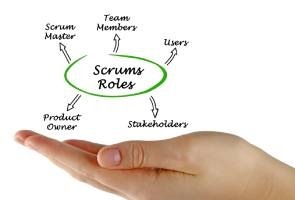 Are you new to Agile and Scrum? Start your learning journey with our Agile Essentials training or an Agile Scrum workshop tailored to your needs.
Do you need a training to dive deeper in Agile and Scrum? Acquire Agile and Scrum knowledge to one of our workshops such as Agile Scrum Foundation, Agile Scrum Master or Agile Scrum Product Owner and obtain an industry-recognised certification.
No need for a certification but looking for training on specific advanced topics? We can help you with one or more of our advanced workshops in different areas of Agile and Scrum or provide an on demand coaching with one of our Agile Coaches.
What is Scrum?
Scrum is a framework that helps individuals, teams and organisations generate value by providing tailored responses to complex problems or products.
It is an agile development method with a dynamic and participatory approach to project management. Originally dedicated to the IT world, it is now deployed in all fields as a new organisation of project mode.
It allows complex products to be delivered in a short time, to benefit from rapid feedback, to improve on a continuous basis and to adapt promptly to changes.
An important aspect are the Scrum values, which are included in the Scrum Guide. These values are courage, focus, commitment, respect and openness.
Who should attend our  Agile and Scrum training courses?
B2B Learning offers a wide range of Agile and Scrum training courses, from basic to advanced levels. Our courses are aimed at developers, business analysts, project managers, architects and IT/software designers. But our Scrum courses are also suitable for anyone who wants to learn more about the Agile and Scrum methods.
What are the roles in a Scrum team?
The Scrum team is a small team of collaborators and is the fundamental unit of Scrum. It consists of a Scrum Master, a Product Owner and developers.
The Scrum Product Owner directs the activity of the development team, holds the product vision and is the link between the business and the Scrum team.
The Scrum Master helps the team to make the best use of the Scrum method in the development of the product.
The Development Team is in charge of the product design.
How do I get my Scrum certification?
If you are new to Agile and Scrum, you can start your learning path with our "Agile Essentials" course, delivered in the classroom or live virtual. You will discover the fundamentals of Agility, understand the Agile mindset and apply its principles in everyday life and discover the domains that are developing around agility. 
When attending our Agile Scrum Workshops, you will have the opportunity to take one of the related EXIN exams. These exams are taken directly at the end of our 2-day workshops. 

To become a certified professional Scrum Master or Scrum Product Owner, all you have to do is to attend one of our professional Scrum courses and pass the online Scrum.org related exam after the course. Please visit our specific page for these accredited professional Scrum.org courses.
Obtaining a Scrum certification will allow you to valorise your knowledge within your company or with potential employers.
Who will be our trainers?
All our Scrum & Agile trainers are also agile coaches and facilitators and project managers, with a long experience in project management, organizational change and team coaching. They help organizations and individuals to improve their processes and workflow using innovative methods and tools.
Our trainers' wish is to share their know-how and experience with enthusiasm to accompany our participants in their personal and professional development.
Do you provide incompany Scrum and Agile training for our teams?
All our courses can be offered for your teams at your premises or any other location of your choice. We can provide the standard training programmes as described on our website or tailor a programme for your specific requirements and expectations. A Another way to learn and to onboard on Agile and Scrum is a serious business game for your teams. We can organize sessions of "The Resort®" or LEGO® SERIOUS PLAY® for your teams.
Contact us on +32 2 335 12 36 or via chat for more information or to receive your free quote.