Agile Project Management and AgilePM® Training & Exams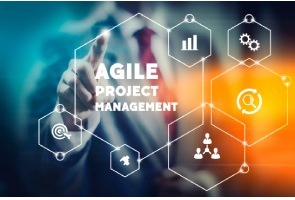 Lay the foundations for successful Agile projects and learn how to manage an agile project from start to finish
Choose from a wide range of Agile training courses & workshops:

AgilePM Foundation & Practitioner (APMG)
Agile Scrum Foundation (EXIN)
Agile workshops and business simulations
One day to discover Agility

Duration: 16 hours / 180-day access / APMG exam voucher included

Discover the difference between the Scrum method and agility!

Here is a series of questions to help you prepare for the Agile PM exam.
AgilePM® or Agile Project Management
AgilePM is a method for managing projects in an agile way. This method, which applies the DSDM approach, addresses all parties involved in a project, both from the business side and from the developer side. In an Agile project, people from the business work closely with the developers to arrive at a solution that meets the real needs of the business within a predefined timeframe. It is therefore crucial that all parties involved are aware of the philosophy behind the method and of their role in the project.
The key to a successful Agile project is the respect of a number of principles, including the agreed time frame and the agreed price tag. Thanks to the AgilePM method, you can tackle your projects faster, while respecting the main principles.
What are the benefits of an AgilePM® training course and certificate?
There are many benefits of an Agile Project Management training and certificate in terms of project management. Here is an overview:
A method that has already won its spurs in the business world. One of the first advantages of Agile Project Management, is that this method has clearly proven to be successful in project development and project management in the business world.
The method is compatible with other methods of project management, such as PRINCE2.
It is a recognised certificate. Another advantage is that the AgilePM training is concluded with a recognised certificate. This certificate can be useful for the employee's career and in the context of forming groups, because one can identify those people who know the Agile Project Management method.
A specific training in a method that is applicable to all types of projects. The AgilePM method was long considered to be a method for managing smaller projects. However, AgilePM allows the management of all sizes of projects, in all areas of business.
Certified candidates receive a free one-year membership of the Agile Business Consortium.

What steps should one take to become certified in Agile Project Management?
B2B Learning offers a unique 3-day course that combines Foundation and Practitioner learning.
This way, you get a complete course that covers all concepts and principles of AgilePM. The theoretical explanation is put into practice by means of numerous exercises. But you can also choose to follow only the Foundation level.
The final step is of course the final exam to obtain the certificate. There are two levels of certificates in the Agile Management Training:
The AgilePM Foundation certificate. This exam tests the candidate's knowledge of the Agile Training Management method. This exam is taken at the end of the 2nd training day.
The AgilePM Practitioner certificate. This test evaluates each participant's ability to actually apply the Agile method in practice. The Practitioner exam is taken one to two weeks after the training, online or by appointment at the B2B Learning offices in Brussels.
You do not need any previous knowledge to follow this training and obtain the AgilePM Foundation certificate. Of course, a knowledge of project management is recommended to best understand the Agile concept. To pass the Practitioner exam, it is necessary to have passed the Foundation exam first.
B2B Learning is an APMG Accredited Training Organization for the AgilePM courses and certifications. Ask for a free quote for a course or contact us for more information. 
EXIN Agile Scrum Foundation
EXIN Agile Scrum Foundation is a unique certification which offers participants a combination of agile management and Scrum development frameworks. During the exam, participants are tested on their knowledge of key concepts and their application.
You will learn the basic principles of Agile and Scrum and understand the Agile way of thinking and working.
This course and certification are especially suitable for those who lead or participate in projects.
Agile Workshops
B2B Learning offers customised introductory Agile workshops, suitable for those who need to understand the impact of Agile and Scrum on their business, their operations and their teams. 
They are awareness sessions that are "hands-on" as much as possible, so that all participants from any part of an organisation can understand the basic concepts and philosophy of Agile and Scrum based on:
a structured presentation of the Agile concepts and philosophy;
a unique business simulation project game "The Resort".
This awareness training is also ideal as an in-company training for your teams. The course can be tailored to meet your specific needs and can also be delivered in half-day or evening sessions.
Call us at +32 2 335.12.36 to discuss your Agile training project !