PM² Project Management Methodology - Training and Certification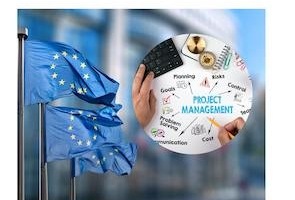 Introducing PM² Training at B2B Learning
Discover a project management methodology that provides a common language, a structured approach and a set of techniques for successful project delivery.
Learn more about the common project management methodology that is open to all EU Institutions, Member States, contractors and citizens.
Choose the PM² best practices that add the most value to your projects.
Benefit from multiple resources such as the official guide, online resources, artifact templates and examples, and a free Essentials eLearning.
2-day training, exam voucher included
PM² (Project Management Methodology) is a project management methodology developed by the European Commission (EC) to provide a structured and standardized approach to project management. It is originally designed for projects within the EC institutions, and it has now reached outside of his initial perimeter, and can also be applied to projects of all sizes and kinds of organizations.
PM² is based on best practices and lessons learned from a wide range of projects carried out by the EC. It aims to provide a simple, adaptable, and practical framework that can be easily understood and implemented by project managers and teams, while ensuring a robust governance framework to stakeholders.
The methodology consists of a set of guiding principles, processes, and an extensive set of templates that cover the entire project lifecycle, from initiation to closure.
B2B Learning is an Accredited Training Partner of the PM² Group. We now offer the Foundation level training and certification. We can also provide on-demand training for PM² Agile, Programme and Portfolio Management.
Read our Blog Post to discover more about PM²