Change Management Training & Exams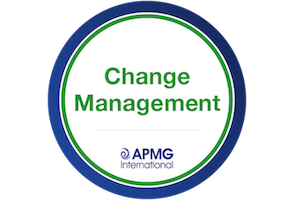 Develop your ability to manage and implement change successfully
Get your APMG Change Management Foundation and Practitioner certifications
Courses based on the Change Management Body of Knowledge
Classes in English, French or Dutch in Brussels and Luxembourg
eLearning and exam packages available
25 hours estimated study time – 6-month online access - exam voucher included

Gain the skills to lead change and achieve successful results.
B2B Learning is now an Accredited Training Organisation for the APMG Change Management courses and certifications. 
Change is impossible to avoid. For most organisations, change can become a recurring occurrence, especially in today's challenging environment where organisations must adapt to remain competitive, evolve or simply survive.
This is why managing change and its impact is a priority for many organisations.
Change management is increasingly recognised as a profession, with a growing demand for qualified and experienced change professionals, managers and leaders.
Developed in partnership with the Change Management Institute, our Foundation and Practitioner courses are based on the Effective Change Manager's Handbook and are aligned to the Change Management Body of Knowledge (CMBoK). Our Change Management courses explore how change affects, and is affected by, individuals, teams, organizations and change leaders, equipping individuals with the knowledge, theories and techniques to:
Develop the skills and expertise to plan, manage and implement change effectively
Unlock resistance to change
Provide effective support and motivation to individuals and teams to embrace change
Draw from a range of professional approaches to implement change smoothly and effectively
Manage and inform key stakeholders throughout the change process
Speed up the implementation of change initiatives
Training and certification is available at Foundation and Practitioner levels,
both in classroom and eLearning formats. Our Change Management Foundation is a 3-day course, whereas the Change Management Practitioner is a 2-day course. The Foundation exam is completed at the end of the 3rd training day. The Practitioner exam is taken online and proctor-based, at a date and time of the participant's choice.
What are the benefits of APMG Change Management certifications?
Benefit from an existing, recognized best practice, developed with industry experts.
Increase the overall success of major change initiatives and transformations.
This certification is valid for life with no mandatory re-certification requirements.
These courses and certifications are endorsed by the Change Management Institute and contribute towards "relevant change management education" prerequisites for their next level accreditations.