Itil, Cobit and Togaf: How Do They Differ?
Nowadays IT organizations are facing the challenging, but necessary, transition to manage IT based on business priorities. They are looking for frameworks such as ITIL, Cobit or TOGAF in order to meet this new challenge. The 3 provide exceptional mechanisms for improvement and adjustment in the face of shifting risks and prioritizations. However the three differ in scope and audience.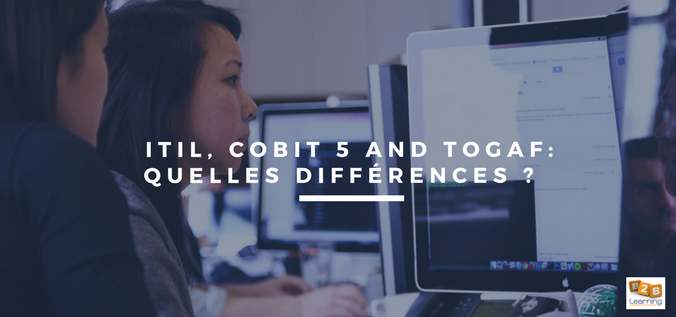 ITIL or "Information Technology Infrastructure Library"

ITIL is a globally recognized collection of best practices for information technology (IT) Service Management. It provides businesses with a customizable framework of best practices to achieve quality service and overcome difficulties associated with the growth of IT systems. ITIL is organized into "sets" of books which are defined by related functions: service strategy, service design, service transition, service operation and continual service improvement.
Cobit or "Control Objectives for Information and Related Technologies"

Cobit is a good practice framework created for Information Technology Management and IT Governance. COBIT helps the enterprises understand their information systems and determine the security as well as the control level required in order to efficiently protect the company. In other words, Cobit creates optimal value from their IT by maintaining a balance between realising benefits and optimising risk and resource usage.
Cobit represents a processes-oriented approach, that regroups 4 domains, planification, construction, execution and metrology, 34 distinct processes that embrace in total 215 activities. Cobit can further be adapted to all types of businesses, industries, technological environments, geographical locations or corporate cultures.
TOGAF or "The Open Group Architecture Framework"

TOGAF is the most popular framework for enterprise architecture. It provides an approach for designing, planning, implementing, and governing an enterprise information technology architecture, ensuring that projects meet businesses objectives through systematic with repeatable processes. TOGAF is based on four interrelated areas of specialization called architecture domains: Business, Application, Data, and Technology.
At the heart of the TOGAF framework is the Architecture Development Method, or ADM. It describes the methodology for developing and managing an enterprise architecture's lifecycle through continuous/cyclic and iterative phases:
A : Architecture Vision
B : Business Architecture
C : Information System Architecture
D : Technology Architecture
E : Opportunities and Solutions
F : Migration Planning
G : Implementation Governance
H : Architecture Change Management
ITIL, Cobit and TOGAF: what is their difference?

TOGAF is an architecture framework, while ITIL is an IT service framework and subsequently provides more guidance in this arena.
ITIL provides a framework for best practice processes in IT Service Management (ITSM) that helps IT manage resources from a business perspective.
COBIT provides the framework for setting business goals and objectives, and measuring the progress of adapting the organization to meet those goals and objectives.
ITIL and Cobit
COBIT is broader in scope than ITIL, but ITIL provides a more detailed narrative regarding service management enablers inside enterprise IT. With the combination of ITIL and COBIT, IT can meet business objectives and deliver higher quality business services at lower costs to the organization.
ITIL and TOGAF

They both originated in IT, are a set of good practices and contain a quality loop, but these loops do not completely overlap. Running IT operations and delivering actual IT services are within the scope of ITIL, however TOGAF does not cover the development and maintenance of a run time environment and how services are actually produced and delivered is not covered in TOGAF.
Developing business architecture is part of the TOGAF, scope of ITIL is limited to developing an effective and efficient IT department, whilst developing business architecture is out of scope in ITIL.
Despite the areas of overlap, ITIL, TOGAF and Cobit 5 are more often used in conjunction with each other for achieving better organizational compliance, security, and overall digital resilience.
Take Away
These 3 tools have profound influence and reach in the IT industry globally, serving as defining frameworks for wide sections of IT practice. Training ecosystems have arisen, books, conferences as well as research revolve around them. ITIL, COBIT, TOGAF also contain an inestimable amount of valuable and hard won industry insight.
Reviews
You must log in to give a review