COBIT® Training and Certification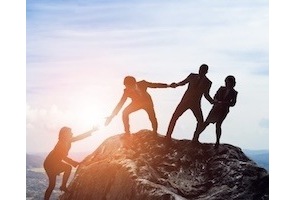 Adopt & adapt the COBIT framework to govern and manage your information systems

Learn how to align IT objectives with strategic business goals

Get accredited COBIT® training for your teams
Your pathway to COBIT® 2019 and COBIT®5 certifications
Courses in English, Dutch or French
B2B Learning is an Accredited Training Organization by ISACA for COBIT® 2019 and COBIT® 5
The COBIT framework, one of the best governance and management frameworks to date for the governance and management of enterprise IT has been developed by ISACA. Effective governance over information and technology is critical to business success, and this new release further seals COBIT's continuing role as an important driver of innovation and business transformation.
These last years, best practice frameworks have been developed and promoted to assist in the process of understanding, designing and implementing enterprise governance of IT (EGIT). The latest version of COBIT builds on and integrates more than 25 years of development in this field. With COBIT 2019, the framework has developed into a broader and more comprehensive information and technology (I&T) governance and management framework and continues to establish itself as a generally accepted framework for I&T governance.
COBIT 2019 is an evolution of the previous version, COBIT 5, building on its solid foundation by adding the latest developments affecting enterprise information and technology. In addition to the updated framework, COBIT now offers more implementation resources, practical guidance and insights, as well as comprehensive training opportunities. COBIT 2019 helps organizations govern information and technology regardless of where it lives.
There are four key publications in this release:
the COBIT 2019 Framework: Introduction and Methodology, which lays out the structure of the overall framework;
the COBIT 2019 Framework: Governance and Management Objectives which contains a detailed description of the COBIT Core Model and its 40 governance and management objectives;
the COBIT 2019 Design Guide which will offer guidance on how to put COBIT to practical use;
and the COBIT 2019 Implementation Guide which will be an updated and more relevant version of the COBIT 5 Implementation Guide.
The two framework publications are available as free downloads to all. The Design and Implementation Guides are available as free downloads to ISACA members.
If you need more information on our COBIT courses of if you wish to organize a session for your teams, contact us on +32 2 335 12 36 or chat online.