Discover ITIL® 4, the latest Best Practice guidance for IT Service Management from AXELOS
The world today evolves in an era of hyper connectivity. We are more than ever dependent on our smartphones, and while desktop computer sales decrease each year, the number of connected objects in our industries and homes has outnumbered the living persons on the earth. Specialists call it the fourth industrial revolution which pushes organizations to invest substantial parts of their resources into a digitalization transformation.
Whether you are a startup or a global company, local business or multinational, the core of your activities deeply relies on IT services, technology and information management. Therefore, how can your organization ensure that its huge investments in IT services will be in line with your strategy, deliver the expected value while protecting the utility and warranty of these services?
For almost 4 decades, service managers have trusted the ITIL framework to support them in the identification, planning, delivery, and support of IT Services and ensure their alignment with the business.
What changed in ITIL 4?
ITIL has never let us down since its version 1 in the 1980's. ITIL has evolved over the years and is now in its 5th generation (ITIL v1, v2, v3 2007 and v3 2011 and now ITIL® 4). This new version 4 expands on the previous versions to secure existing investments that organizations and individuals have already made on ITIL: the core fundamentals of ITIL continue to be relevant to organizations and the certification scheme will provide a smooth transition from v3 to v4 for individuals.
The life-cycle approach that was at the core of the ITIL v3 has now evolved into a more holistic approach by defining four dimensions of service management that are essential for the co-creation of value and are relevant to the service value system. ITIL v4 will now consider organizations and people, partners and suppliers, information & technology and value streams & processes as part of this holistic approach.
The ITIL v3 processes have evolved into practices that will include other elements such as roles, skills, people, resources, data management, technology, etc. The practices are integrated to different areas of service management and cover activities from demand to value across the service value chain. The practices will continue to advocate for a flexible and non-siloed approach, just as previous versions of ITIL did!
ITIL 4 provides interfaces with current popular frameworks such as DevOps and Agile or Lean. ITIL 4 ensures a truly integrated model for governance and business relationships.
The ITIL principles that were first introduced with the ITIL Practitioner course have now been embedded in ITIL 4. It is a good thing as every methodology (like in PRINCE2© for example) relies on a certain number of principles. Principles provide guidance to organizations, as they are foundations for activities and bring common vision on service management.
How can you and your company transition to ITIL® 4?
Scenario 1 – You start your ITIL journey
Attend the ITIL 4 Foundation training, either classroom-based, live virtual or in eLearning. Once you have your ITIL4 Foundation Certificate, you will be able to continue your learning path with our advanced ITIL training modules.
Scenario 2 – You already have an ITILv3 Foundation
Attend the ITIL 4 Update training, a fasttrack 1-day intensive programme that will enable you to quickly get the essentials of the new ITIL 4. You will then prepare your ITIL4 Foundation exam by some extra self-study and take your exam a week or 2 later. You can also choose to take our ITIL4 Foundation eLearning & exam pack. After having completed your ITIL4 Foundation exam successfully, you can continue your ITIL learning journey with the advanced modules.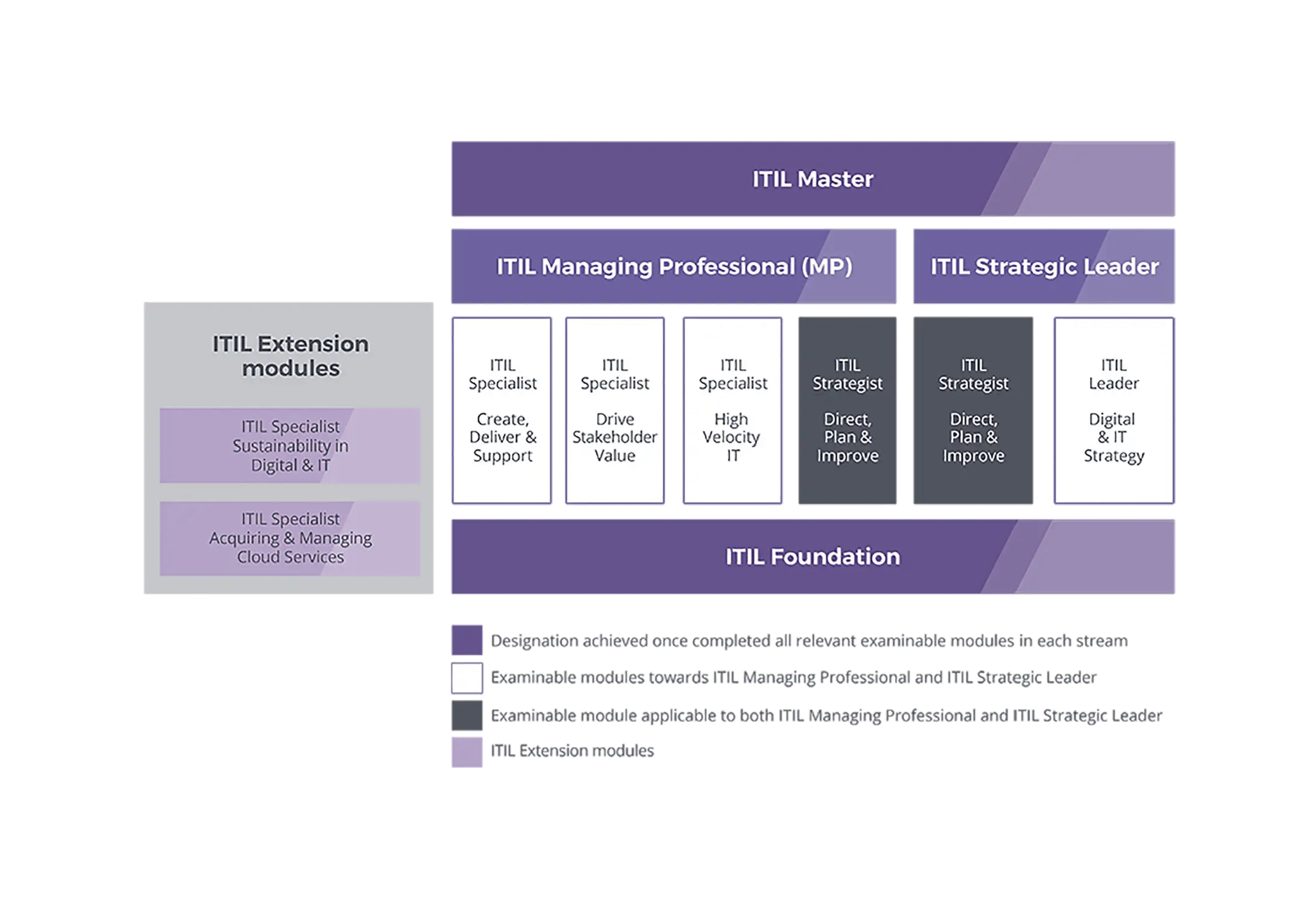 Copyright © AXELOS Limited 2019. Used under permission of AXELOS Limited. All rights reserved.
B2B Learning offers ITIL Foundation, ITIL Managing Professional and ITIL Strategic Leader modules. ITIL extension modules are available on demand.
Reviews
You must log in to give a review