6 Tips to Help Project Managers Hit Their Deadlines
You might not be aware of it but failing to meet the deadlines as to the realization of a project is one of the major reasons for client dissatisfaction. A company willing to improve its performance and boost its productivity therefore needs to improve its time management skills. As a result, we have put forward 6 tips in order to help you manage and meet your deadlines.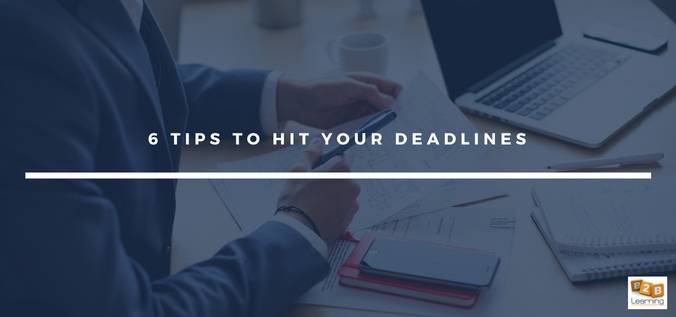 1. Fragmenting the project into mini-missions

Does an ambitious project require a longer deadline? Not necessarily! To be more efficient, it seems crucial to fragment a project into several single-tasks in order to better deal with the deadlines.
2 two-week small missions are more useful than a one-month project, for example. To better realize a project, it seems easier to primarily set shorter deadlines. Moreover, team members cannot put unforeseen events and other risks of delay aside if they want to succeed in meeting the deadlines. It therefore seems interesting to opt for short-term goals combined with continuous assessments.
2. Opting for a backwards scheduling

In general, team members use a reverse scheduling when they have to complete ambitious projects for which advanced technologies or numerous contributors are needed. They have to define the techniques used, the skills needed for the realisation of a project, the budget and the logistical questions beforehand. Every important aspect needs to be written in order to take each detail into account in due time. They will however have to set a margin of error of 5 to 10%, as they may need to ask for a one or two-day extension.
3. Forming a crack squad

When you face difficulties or when you fail meeting a deadline, you might acknowledge that the source of the problem comes from the team responsible for the realisation of the project. Its origin might also be due to a lack of particular skills or to communication. In order to avoid risks of delay, it therefore seems better to surround oneself with committed people who possess the specific skills in order to achieve the tasks and who can easily communicate with each other. It seems equally interesting to work with only two or three colleagues, as a huge team is not always productive due to a lack of coordination and time management.
4. Laying stress on leadership

There exists no perfect team! A project leader needs to train his « dream team » and to ensure that members of the team cooperate and communicate efficiently with each other. From the tasks distribution, to researching the best management techniques or the choice of the team trainer, the project leader will have to cover several jobs at once. The team members will need to be mobilized to easily accomplish the tasks, whereas the project manager will have to congratulate them on the accomplished tasks, to motivate them in order to avoid delays.
5. Putting the emphasis on communication

To rapidly mediate communication, there is a need for improvement. Balance sheets, controls, phone calls, faxes are all needed to remind team members of the deadline to be respected. If information is efficiently shared, the top priorities will be more easily established. Providing information to the employees as to the progress of a project as well as the efficiency of proposed solutions are good ideas in order to be more efficient.
6. Organising a better follow-up

In order to ensure that projects will be realized in due time, it is necessary to plan an efficient follow-up of the tasks including regular controls and meetings with the staff. To enhance one's time management skills, it seems necessary to distinguish priority tasks from unimportant ones. This enables employees to better schedule the calendar putting emphasis on the tasks needed to be completed as quickly as possible.
Take away
Set short term objectives
Draw up an inventory of all the available resources, technologies and contributors
Surround yourself with an efficient team
Pay attention to the means with which you communicate
Regularly control the progress of a project
Identify the priorities
Discover our training on this topic
Reviews
You must log in to give a review