MSP® | P3O® | MoP® Training & Certification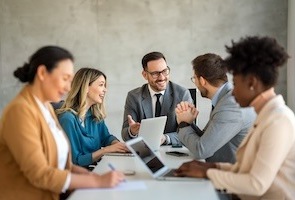 Develop your programme and portfolio best practice skills
Obtain your MSP, P3O, MoR and/or MoP certification
Accredited training organisation by PeopleCert
Discover our programmes in English, French and Dutch
In-Class or Live Virtual sessions in Belgium and Luxembourg
Incompany training for your teams
The MSP - Managing Successful Programmes method is focused on managing a group of coordinated projects and related activities in the delivery of a common goal. The programme may require shared resource and often be under a limited budgetary constraint. A programme managed with MSP provides harmonious integration with its component projectsmanaged at PRINCE2 level. A programme exists to realize benefits and achieve strategic objectives.
Managing Successful Programmes (MSP) was developed as a best practice guide on Programme Management. The guide comprises a set of Principles and a set of Processes for use when managing a programme. MSP is a very flexible methodology, designed to be adapted to meet the needs of specific circumstances.
The MSP framework is based on three core concepts:
MSP Principles: these are derived from positive and negative lessons learned from programme experiences. They are the common factors that underpin the success of any transformational change.
MSP Governance Themes: these define an organization's approach to programme management. They allow an organization to put in place the right leadership, delivery team, organization structures and controls, giving the best chance for success.
MSP Transformational Flow: this provides a route through the lifecycle of a programme from its conception through to the delivery of the new capability, outcomes and benefits.
  
Portfolio, Programme and Project Office (P3O) brings together a set of principles, processes, structures, tools and techniques required by an organization to ensure the consistent delivery of projects and programmes in the organization and support a busines change strategy. This can be provided through a single permanent office that is usually designated as Portfolio Office or Centre of Excellence.
PMOs should consider implementing P3O as it gives them exposure to the world of Project and Programme management. It will help improve their skills and competencies to provide higher value to the stakeholders and customers.
The Project Management Office primary role is to manage a set of projects in the organization. The PMO also takes care of all the to do tasks of a project, starting form standardization to leveraging resources. The 3 main responsibilities of a PMO office include establishing project management methods, keeping track of projects and programmes, providing the right level of support to the project & programme managers.
The MoP – Management of Portfolios guidance provides a set of principles, techniques and practices to help organizations to ensure their change initiatives, through projects and programmes, are in line with the strategic objectives of the organization and achieve maximum return on investments.
MoP® – Management of Portfolios provides guidance to align corporate strategy, programmes, projects and on-going operational demands. The MoP guidance provides cycles, practices, roles and techniques to enable organizational alignment and facilitate improved decision making.
Management of Portfolios (MoP) complements existing best practices in programme and project management and is aimed at those involved in investment decision making, project and programme delivery, benefits realization and business change initiatives.
The MoP Foundation certification shows that you have sufficient knowledge and understanding to work as an informed member of a portfolio office and in a range of portfolio-management roles. It is a pre-requisite for the Practitioner Certification.
The MoP Practitioner level confirms that you have achieved a good understanding of how to apply and tailor the principles, practices and techniques that help optimize an organization's investment in change and that you are able to analyze portfolio data, documentation and roles in relation to a real life scenario.
What are the advantages of the MSP, P3O and MoP training provided by B2B Learning?
We are an accredited training organization and exam center by Axelos
Our senior trainers have extensive experience in setting up and managing programs, portfolios and project offices
All courses are aligned with the other Best Practice Guidances of Axelos
Our courses combine theoretical presentations, practical exercises and real-live examples, so that participants can integrate the theory learned to their daily work
We offer a careful preparation for the MSP®, P3O® and MoP® certification exams and high pass rate