ITIL or Cobit? Which training is right for you?
You want to better control your information systems and take advantage of your investments in IT? You therefore have to make a choice between the COBIT training (Common Objectives for Business Information Technology) and the ITIL training (Information Technology Infrastructure Library). They are both common frameworks for information systems governance and have undeniable advantages.
The question is: which one to choose?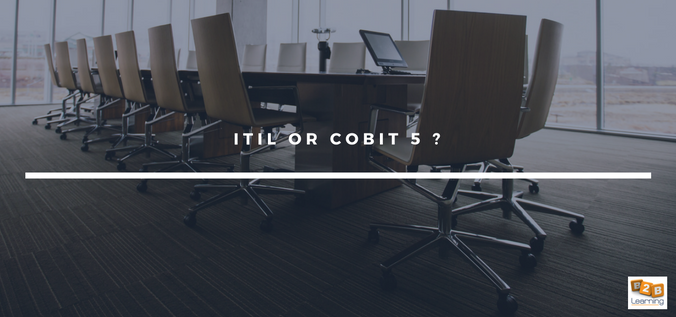 Why opt for the Cobit training?

As the best tool to use for DSI, Cobit enables to take advantage of assessment methods and risk management as well as information system management within a company. The purpose of that kind of training is to help companies (MSEs, etc.) confirm their managerial decisions by boosting their information quality. This training should also help companies to better assess their risks, manage their resources but also optimise their costs and benefits thanks to an optimised use of information systems. The purpose of this training is to help companies reach excellence at each level of their expertise. In order to do that, they will have to learn the method of each Cobit's technology and to strengthen their knowledge in the field of information systems.
The Cobit5 or Cobit 2019 training is addressed to managers and IT consultants as well as CEOs wishing to boost their managerial techniques and enhance their turnover.
Why opt for the ITIL training?

As soon as we talk about the IT industry, we automatically refer to the ITIL, the common framework in terms of good command as regards IT service management. ITIL is a key work. Its training provides various advantages, such as a better service and cost management, an improvement of IT services but also of the quality of provided products and skills.
The ITIL training is aimed at IT systems managers in order to help them improve themselves in their field of specialization. It is also aimed at IT professionals willing to strengthen their skills in the field of information service management.
What are the similarities and differences between Cobit and ITIL?

When used together or separately, Cobit and ITIL enable to have a good command of information systems and a better information system management within companies. A training focusing on these two frameworks is fundamental for professionals working in information technology. If the ITIL enables to better handle the IT service, Cobit enables to gain value thanks to the investments in information technologies. This framework also enables to reduce the risks and optimise resources. Besides, the ITIL is more focused on details, namely on the organisational structures, the processes used in the realisation of projects, etc. On the other hand, Cobit has a broader application.
As regards the advantages, Cobit favours a more classic approach where the command is distinct from project management. It responds to the needs of each service but never goes into details. As far as ITIL is concerned, it boosts the service strategies and improves its creation and exploitation. In concrete terms, if Cobit looks simplistic, it is however as complex as ITIL. Choosing one over the other will therefore depend on your needs.
The dream would be to grasp the definition and the usage of these two methods. There are now trainings aimed at professionals and companies that enable to optimise knowledge of both ITIL. These ones should help as regards the decision-making process.
Take Away

You have learned the differences and the advantages of these two methods. You will be able to adapt them to your desires. This article also taught you to take advantage of their qualities especially as regards IT projects.
Reviews
You must log in to give a review