MSP - A Method created for Programme Managers
Throughout the constant and increasing change in today's business environment and market conditions, leading a programme management involves a complex strategic planning for organisations to avoid falling into a stagnating /surviving position.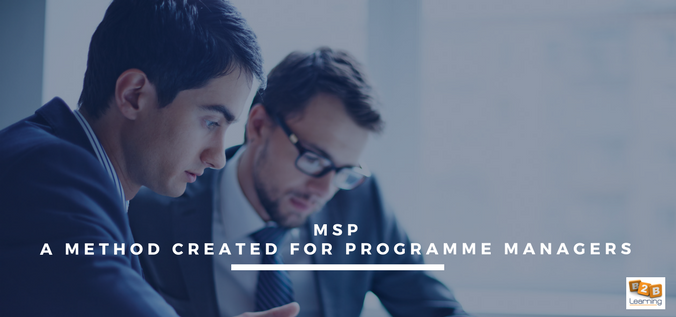 Used and adopted by all sizes and domain organizations from public to private sectors, MSP methodology comprises principles and processes and helps programme managers run projects, keeping them on time and in accordance to business objectives.
How MSP guides the organization's change

As programmes are driven by the organization's strategy, programme managers require executive leadership capability to deliver results regarding the organization's financial calendar.
MSP Programme Management will help "staying in the game" avoiding difficulties and common mistakes made within an organization: the lack of objective definition clarity, the confusion between programme manager's and project manager's roles and scopes, the unbalanced focus on the companies' weaknesses rather than strengths, a tendency to lay out a wrong vision and have expectations on the company's transformation, the slowing or pausing corporate culture change efforts, the disengagement of stakeholders, the lack of importance given to connections and communication requirements...
As a structured guidance, MSP approach will define key roles and responsibilities regarding stakeholders and provide the ideal framework and roadmap to success in a program change management included in the long-term strategy.
What comprises MSP and how to put this methodology in action?
Intended for Programme Managers, Senior Project Managers, Operational Managers, team-leaders and all professionals involved in a program management role, MSP is based on the three following major elements:
1. MSP Principles
2. MSP Governance Themes
3. MSP Transformational Flow processes

1. MSP Principles

There are seven principles that will successfully guide any type of programme management:
To remain aligned with corporate strategy (even though strategy can be subject to many changes, a programme should always go along with it)
To lead change (programme management must be run by executive leaders)
To envision and communicate about and for a better future (create and nurture by communicating a clear vision of the future needs)
To focus on benefits and threats that could prevent their achievement (all actions and activities must be aligned regarding their end-benefits and thus satisfying objectives)
To design and deliver a coherent capability
To learn from experience (continually improve as a "learning organization")
To add value (To add value into the protfolio's projects to build a favourable programme)
2. MSP Governance Themes

Nine programmes management governance themes outline the organization's approach to MSP. These ensure the programme management control in the organisation. As an example, one may define roles and responsibilities to the right leaders, groups, teams and structures. Here are the 9 governance themes:
Organisation
Vision
Leadership and Stakeholder Engagement
Benefits Realisation Management
Blueprint Design and Delivery
Planning and Control
Business Case
Risk Management and Issue Resolution
Quality Management
3. MSP Transformational Flow

The MSP Transformational Flow activities can be influenced by the MSP Governance themes. You should be aware that both concepts interact very closely with one another.
More precisely, MSP Governance is to be used as a reference manual for the MSP Transformational Flow, a to do list of actions in time to refer to.
Six MSP Transformational flow processes draw the programme conception as a lifecycle:
Identifying a Programme
Defining a Programme
Managing the Tranches
Delivering the Capability
Realizing the benefits
Closing a Programme
What are the specific benefits of the MSP guide?

Aside from the Benefits Realisation Management theme which represents by itself the complete way to identify, track and optimize the achievement of benefits, MSP method is clearly the guide to improve the management practice.
In a volatile and changing market, being able to deliver and lead quality programmes does not only support improvement of services or projects offers, it also prepares the whole organization to comprehend its future.
Take away
Apply the 7 MSP Principles to Lead a Successful Programme Management that aligns with the long term strategy
Outline the 9 MSP Governance themes to have a clear control of every MSP
Programme Management aspects
Follow the 6 MSP Transformational Flow processes to build the relevant lifecycle of a given programme
Reviews
You must log in to give a review