Certification PRINCE2, MSP, Agile or Scrum? Which one should you choose?
The project management and the IT service management certifications are as diverse as varied: PRINCE2 Certification, MSP, Agile or Scrum. Each certification corresponds to a specific domain and offers distinct advantages.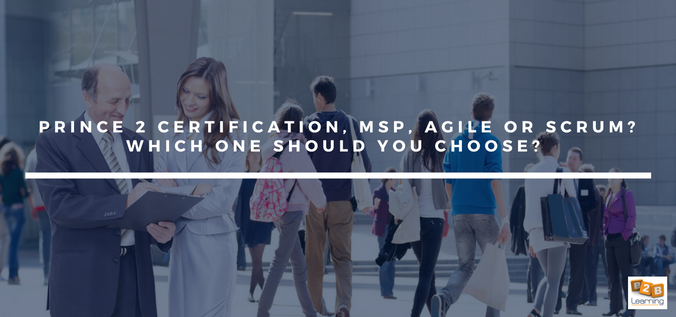 PRINCE2 Certification: Develop the best practice to manage a project

PRINCE2 Certification is a useful framework of reference that includes organisational development techniques and projects management. It applies to all types of projects and can be used as a complement to other frameworks. It comprises several principles, processes and personalized techniques. It was created for company executives, project managers, Project Management Office leaders as well as for the IT department. It enables the users to better manage all types of projects.
PRINCE2 Certification offers various advantages for its users. It provides better organisational development techniques, a clearer project insight and division of roles according to the current tasks. The certification PRINCE2 also enables to understand the context of a project whose purpose is to optimise the methods used in order to facilitate the realization of the project. This certification was particularly designed for managers, leaders, project officers and project managers.
MSP: When managing programmes becomes easy

MSP (Managing Successful Programmes) is a framework of reference for programme management. It shows the implementation of a continuous change and enables to more successfully implement that very change. There are numerous advantages to adopting MSP for both companies and organisations. It enables to develop a change plan without disrupting the structure as well as the company's habits. It also enables to coordinate and control projects as well as other information flows thanks to the needs identification but also to the understanding of each employee's roles and responsibilities.
The certification MSP (Managing Successful Programmes) also enables to manage change and to take into account the company's business objectives. Other advantages of MSP include the optimisation of a company's project management techniques and strategy development tools. The certification MSP was created for professionals who are responsible for programmes as well as for those working as organisation programme coordinators.
SCRUM Methodology: Tame the innovation

Scrum is an Agile Method par excellence. It was conceived for IT project development and for other ambitious projects that are based on innovation. The certification Scrum offers various advantages, such as promoting collaboration and favouring each team member's participation as regards the work process. It is also beneficial for the decision-making process and, due to its value creation, for companies willing to develop performances.
Scrum applies to all types of project and product development and provides the best choice possible in order to manage ambitious projects in the IT sector or in other sectors of activity. The certification is compulsory for team managers, company executives and other IT managers.
AGILE: Build a Team Spirit

Last but not least, the Agile certification is one of the most requested certifications in terms of project management. It was conceived for professionals looking for an efficient, reliable and easy-to-use method in order to quickly reach the set goals. Among the best advantages of this approach, let's cite its autonomy along with a more successful change management, a higher growth rate and, of course, a better team spirit. The Agile Method was conceived for IT managers, company executives as well as for organisations that are committed to managing projects and looking for an innovative management tool.
All these certifications provide interesting advantages. Companies will therefore have to make a choice according to their needs and in function of several criteria.
Take Away

This article provides a better understanding of those different certifications as well as a better insight into their advantages. This will help you make a choice to find the most adapted certification to your situation. Now, you should write down your needs and contact an accredited training organization to ask them more questions.
Are you interested in getting certified PRINCE2, MSP, SCRUM or AGILE?
Contact us +32 2 335 12 36!
Reviews
You must log in to give a review