SAFe® Training & Certification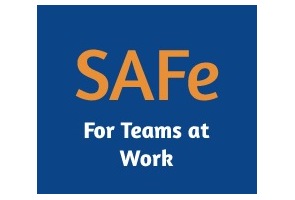 Discover the Scaled Agile Framework and better understand the Lean-Agile mindset & business agility
Leading SAFe®, SAFe® Scrum Master and SAFe® Product Owner training courses and exams
Custom workshops and onsite traininig
Courses run by professionals with real-world experience
The Scaled Agile Framework® (SAFe)
is a set af proven integrated principles, practices and competencies to implement Lean, Agile, and DevOps at scale. The framework can help your organization improve business outcomes by accelerating productivity, time-to-market, quality, employee engagement and more.
Gain the knowledge necessary to lead a Lean-Agile enterprise 
Master Business Agility in order to thrive in the competitive market and to adapt to the changing business needs. 
Explore the importance of adopting a customer-centric mindset and design thinking approach to agile product delivery
B2B Learning, in partnership with SoCraAgile, offers SAFe® courses and certifications such as:
Leading SAFe, with SAFe® 5 Agilist certification
SAFe Scrum Master with SAFe® 5 Scrum Master certification
SAFe Product Owner/Manager with SAFe® 5 Product Owner/Product Manager certification
We also offer 1-day introductory workshops or programmes on demand, tailored to your needs.