Root Cause Analysis - Find the real cause of your problem
When problems occur at work, organizations are more likely to fix it in a rather quick-situation-assessment fashion and get into the fire-fighting mode instead of taking the time to find out the real cause(s) of the problem. Root Cause Analysis (RCA) gives companies a process they can use to identify sources of problems and eliminate them for good. It is an efficient improvement process based on structured methods and tools. It is therefore a key success factor that every company should implement within their core processes.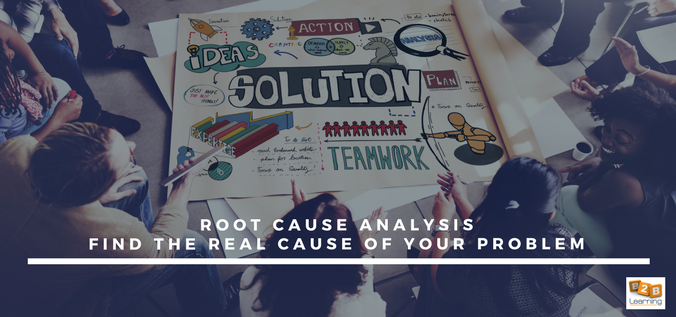 Why use Root Cause Analysis in project management?

"Take time to fix it right rather than having to fix it again "
As the need for new technologies increases, IT project management methods complexify and many organizations are going through common problem situations : unresolved cost problems, technical and delivery issues, decreasing customer retention, downtime...
Implementing a quick fix deals with the symptoms only, it doesn't solve the "root" problem (and will not prevent issues from reoccurring).
As recurring problems represent a risk for employees, unforeseen issues too can cause considerable damages. Thus, managers must fix problems in due time; while avoiding pointing fingers at or blaming people, in order to fully focus on solving the problem.
Using Root Cause Analysis simply eliminates "the evil at the bottom" so that productivity and business can grow.
RCA contributes to reaching business targets
Corrective and preventive actions using RCA methods helps organizations reaching business targets and can be applied in various domains.
Spending the time to discover the actual underlying cause will limit issues greatly. Many examples highlight the benefits of stopping these re-occurances:
The use of RCA on customer complaints. Dealing with the root cause rather than the reoccurring issues decreases the workload, enhances customer satisfaction and make customers more willing to buy services or products.
The use of RCA in project management helps finding critical causes related to time, quality and budgets.
How to use a Root Cause Analysis process?

There are 5 steps in a Root Cause Analysis:
1. Define the problem: This phase aims at defining how the Root Cause Analysis will be run as a project. Identify the context of a problem: what, how, when, where it happened + what are the appearing symptoms.
2. Collect data about the situation: Check the information, how long has the problem been existing, what's impacted, what can you learn about it ?
3. Identify all possible causes: what event and conditions led to this problem occurrence? Use the funnel-shaped map system to categorize the different causes:Primary difficulty source identification
Ex : Equipment, personal, natural, external event or others difficulties ? Problem category identification
Ex : Design, program, fabrication, company or contract employee problem ? Root cause category identification
Ex : Reliability, administrative, procedures, human factors engineering, training, supervision, communication, personal performance issues ? Near root cause identification
Ex : Policies and material controls, safety reviews, customer services, no training, misunderstood communication, personal medication problems...
4. Identify the root cause: what is responsible for the problems you identify in the "near root cause identification phase"? 
Ex : technical error, customer needs not addressed, procedure difficult to use, incomplete data, equipment location, training requirements not identified… Use the 5 Whys method to dig deeper to the true root cause (simply asks 5 times why something happened)
5. Once the failure has been identified properly, the last most important phase in the RCA process is to fix the problem and prevent future recurrences by implementing workable corrective measures.
Take Away
Focus on processes, not on people.
The Root Cause Analysis should at any cost avoid blaming and finger-pointing, as it will prevent the resolution process from scoring progress.
Focus on data to avoid any bias from people's' involvement.
Remind your team that RCA falls under the organization's continuous improvement program and that it's nowhere aiming at blaming specific people.
Reviews
You must log in to give a review