12 Tips to help IT Managers meet their deadlines
Did you know the word "deadline" is originally a boundary around a prison, beyond which a prisoner could be shot by the guards if he crosses the line? Following this very context, would people tend to be more respectful when dealing with deadlines? Most IT managers are concerned with that particular problem, as respecting deadlines represents a high priority in their position. However, IT projects are always delayed by technical problems. So, how can things be done on time? How to cope with the deadlines as an IT manager? Here are some pieces of advice to follow.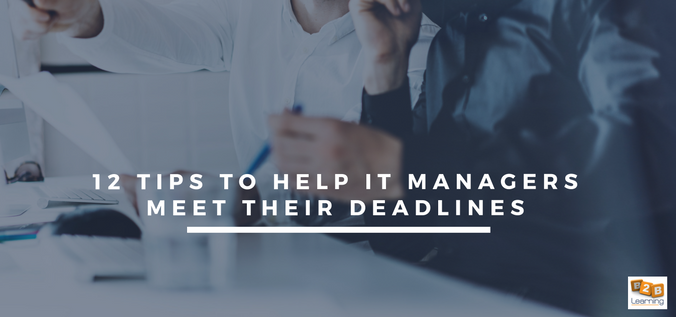 1. Never set a deadline randomly: an IT project is never as easy to realize as it seems and can always be delayed by previously hidden difficulties. It is advised never to set a deadline during the first appointment but to go through a phase of both observation and discussion with the client before even mentioning any deadline.
2. Define the different phases of the project: while setting the schedule of the project, make sure to wisely determine the different phases of the project and the time needed for each stage.
3. Consult your collaborators: as an IT project is usually considered as a team work, do not hesitate to ask your collaborators as regards the amount of time required for each part of the project.
4. Anticipate problems: know each stage of the project in details and identify where problems might appear as well as the time needed to solve them.
5. Make sure to give the right task to the right person: you need to know your team, their qualifications as well as their ability to handle pressure and to deal with a specific task. You will therefore be able to know who is the most qualified for each kind of task.
6. Set a testing period: each stage of a project might require more or less time, especially as regards the testing period used to acknowledge if every part is consistent with the overall project.
7. Do not forget to incorporate additional timeslots: as mentioned before, IT projects are quite difficult to schedule. Plan beforehand in order to have some time left to deal with eventual bugs.
8. Prioritization: it is important to set precise priorities while handling IT projects. Some stages need to be done before other tasks in order not to waste time.
9. Set early deadlines: both for yourself as a manager and for your employees, it is important to set a deadline prior to the official one in order to be able to finish the project on time.
10. Make the deadline public: choose to print the detailed schedule including the deadlines for each and every phase and put it in a place where everyone can see it. You can also mark each deadline that was respected or not.
11. Check every stage of the project: do not wait up to the last stage to know whether the project is going smoothly or not. Make sure to check if every phase has been done properly as written in the contract.
12. Involve your employees in a competition: in order to respect the deadlines, do not hesitate to establish a competition between the different teams involved in the project offering them rewards, such as free food, drinks, gifts and so on.
Reviews
You must log in to give a review