6 Great Facts You Should Know About TOGAF
The Open Group Architecture Framework (TOGAF) is a methodology that is used internally by top companies in the world to improve their efficiency and effectiveness. It represents the best known but also the most reliable IT architecture corporate standard for information management.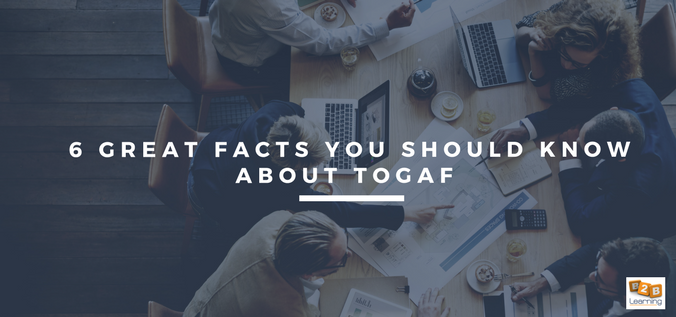 1. The definition of TOGAF

TOGAF is an architecture framework that was launched in 2009 by the Open Group, which has quickly become the global standard for Enterprise Architecture. Hence, it was adopted by more than 80% of the world's leading companies and thousands of employees train to acquire the TOGAF certification every year. Its purpose is to implement a strong architecture level within companies.
2. TOGAF is centered on an Architecture Project Management Method

The Architecture Project Management (ADM) lies as the heart of TOGAF. It is the result of continuous collaborations and contributions from many architecture practitioners. It represents an architecture project management method, which consists in techniques and deliverables originally found in project management and business change methods (e.g. stakeholder identification, risk management). It thus provides a tested process for developing architectures.
3. TOGAF and the spectrum of change

TOGAF's purpose is to transform an enterprise from a baseline architecture to a target architecture. It thus helps manage the spectrum of change in order to transform the enterprise into a target operating model.
It focuses on three primary architecture domains: business, IS (i.e. data and applications) and IT infrastructure. Its goal is twofold: implementing both standardisation and integration.
It is thus business-driven and focuses on the business roles and processes, which are supported by digital information systems.
4. Its 4-step process

TOGAF is made up of 4 main steps:
Vision: establishing the project by focusing on defining the stakeholders
Architecture development: providing a management framework for architecture development
Planning: migration planning by addressing all costs, values and risks
Implementation governance: creating so-called "migration projects" or "implementation projects"
5. The 8 steps of TOGAF's architecture development

TOGAF's architecture development is structured in 8 steps (Source: http://www.burst-digital.com):
Phase A – Architecture vision: defining the scope, the assumptions and the methodologies along with identifying the key stakeholders and their objectives
Phase B – Business Architecture: creating the Baseline and Target Business Architectures
Phase C – Information System Architectures: creating the Data and Application Architecture
Phase D – Technology Architecture: developing the technology architecture to form the basis of the implementation work following eight steps
Phase E – Opportunities and Solutions: identifying the parameters of change, the major phases along the way and the top-level projects to be undertaken when moving from the current environment to the target one
Phase F – Migration Planning: prioritization of the projects within the Technology Architecture and estimation of the costs for the various migrations
Phase G – Implementation Governance: assigning the implementation organisation for each implementation project
Phase H – Architecture Change Management: management of the changes (e.g. technology or business environment) to the architecture
6. TOGAF's strengths

TOGAF offers several advantages including the following:
It provides a common language about the process to be followed by architects;It strives for compatibility with other industry-recognised methods
It is very broad, which means that it brings together different strands of management and activity at the heart of a common transformation programme
It is not prescriptive (i.e. it is quite flexible and expects that companies will adapt it)
It provides outlines of related disciplines (e.g. business planning, risk management or project management)
It proposes a segmenting effort articulated by time, by business function and by architecture domain
Take Away
TOGAF is an architecture framework aiming to implement a strong architecture level within companies
It is centred on the Architecture Project Management (ADM)
TOGAF's purpose is to transform an enterprise from a baseline architecture to a target architecture
It follows a 4-step process: vision, architecture development, planning and implementation governance;Its architecture development is made up of 8 ensuing steps
Reviews
You must log in to give a review