3 Mistakes that will considerably impact on your project budget
When you decide to start a new project, it is important to reflect on all of its organizational aspects, and especially on the financial ones. In most of the cases, the risks of failure are usually correlated with an ineffective management of your project budget. This article therefore provides an introduction to the most basic mistakes that usually disrupt the management of your project budget. It is thus important not to commit these mistakes in order to avoid failing the whole project or delaying its completion.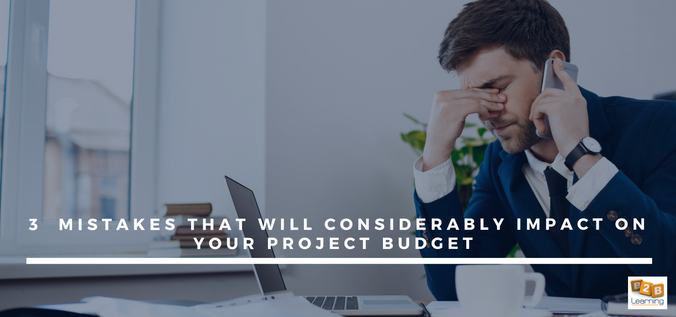 1. Do not have a single source of funding

Before starting a new project without a single source of funding, you should think about the various sources of funding you might benefit from, as problems can arise due to a lack of money. You can benefit from several sources of funding. However, private partnerships usually represent the most interesting solutions. Whether these take the form of sponsorship or sponsoring, their financial aid will put a curb on financial issues.
You also have to make sure that the provided sources of funding will not demand a rapid return on investment, as it could ruin your provisional budget. The ideal solution would be to find a long-term partnership in order to provide resources throughout the project.
2. Forget to assess your needs

The most classic mistake that managers usually commit is correlated to a lack of knowledge as regards their financial needs. Whether you choose to develop a new software or other projects correlated with diverse sectors of activity, it is important to assess the financial needs for your project. It is therefore advised not to rush headlong into your project if you have no actual idea of its outcome. When you have set your financial needs, you will be able to wisely make use of the provided financial resources. It will therefore be easier to control both the incomes and the expenses.
Correctly assess your financial needs will enable you to create a room for manoeuvre in order to have a clear vision of all the possible opportunities. You will therefore have to put a cost on each and every idea to be implemented in order to enable your chief manager to have the project completed for the due date.
Looking to the future in order to anticipate any eventual delay might also be useful. You will thus have to take this phase into account when assessing the ultimate cost.
3. Avoid establishing a provisional budget

One of the first steps to implement is the establishment of a provisional budget in order to sum up the previous expenses, the receipts and the funding of a project. Omitting this step could lead to the inability to efficiently manage your expenses and to adequately manage your resources. Establishing a provisional budget thus enables you to better manage your costs and to prevent yourself from each and every financial issue.
It is also important to remind that you will have to reassess your provisional budget throughout its whole implementation, also adding up each and every expense you make. More than just a simple document, the provisional budget enables you to anticipate eventual problems and to provide solutions.
Take Away

These three pieces of advice will enable you to avoid problems as regards the management of your budget since the beginning of the project up to its completion. When these three pieces of advice are applied, they provide an immediate and adequate management of your project.
Reviews
You must log in to give a review